"K9 Zeke: A Heroes Story"
On March 15, 2013, Zeke was called to assist a local police agency in locating an individual who was involved in a shooting and stabbing the previous evening.
As law enforcement officers investigated the incident, the individual pointed a firearm at officers and then fled into a nearby wooded area.
Zeke quickly picked up the track of the individual and we started to close the distance on his location.
As we approached him, the individual was given orders to surrender but instead he fled while still being armed.
Due to the individual approaching the perimeter officers and placing them in danger, Zeke was sent to stop the threat.
Zeke engaged and held the individual, but was shot at point blank range one time in the neck.
Zeke never released his grip during the incident and he did exactly what he was trained to do.
Due to the severe injury and extensive loss of blood, Zeke had to be flown by helicopter to Rossmoyne Animal Emergency Trauma Center to be treated.
Remarkably just after 6 weeks of recovery, Zeke returned to full active duty to resume his role and continues to be our hero.
---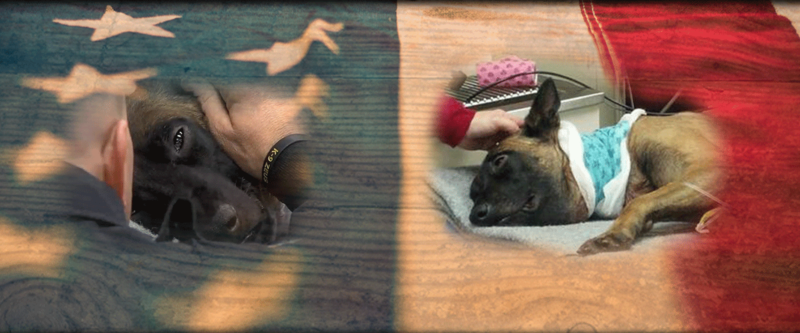 ---
"Where Heroes are Honored"
Zeke saved multiple officers lives by his heroic actions that day.
The actions earned him numerous honors and awards, but Zeke is not alone.
We are blessed to be protected everyday in this Great Nation by these four-legged heroes.
The outcry of support received as a result of that day changed my life forever.
Zeke Gear remembers the dedication of all of these heroes and has taken the challenge to continue honoring these four-legged heroes by adopting the motto 'Where Heroes are Honored'.
As part of our mission a portion of the proceeds from every item purchased at Zeke Gear will be donated back into Police, Military and Service Dog organizations.